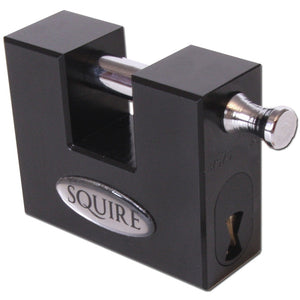 The Squire WS75 is the "Rolls-Royce" of container padlocks. Designed specifically for us inside the locking shroud of a shipping container, this padlock offers a high level of security. Tested to Insurance CEN Grade 4, the highest acheived by this style of padlock, you're choosing the best lock for your container if you opt for the Squire WS75.
6 pin cylinder
Black electrophoretic finish (high corrosion resistance)
Available in master keyed sets 
Available in keyed alike sets
Extra keys available with order
Next day delivery for keyed differ orders
2 x Keys per lock as standard
Key registration available
Explanation of pinning options:
1. Keyed Differ (All locks have their own individual keys and come with 2 keys per lock standard)
2. Keyed Alike (All locks will work to the same key and will be supplied with 2 keys in total for the whole set) Additional keys can be ordered above. 
3. Master Keyed (All locks have their own individual keys, but the set will also be provided with an overriding master key that can open all locks in your set)
MULTIPLE LOCK ORDERS & EXTRA KEYS - Remember, if you are ordering multiple locks and you need extra keys be careful not to order more than you actually need. E.G - If you are ordering 10 x locks, and you need 10 x extra keys, just select 1 x extra key with each lock, and then add 10 x locks to your basket.
Other Features / Dimensions
12mm hardened boron alloy steel shackles
80mm solid hardened steel lock body
Rekeyable 6 pin tumbler lock mechanism
Over 260,000 key differs
Anti-bump, anti-pick, highly attack resistant
Highly corrosion resistant electrophoretic black coating
Body Depth: 30mm
Body Height: 65mm
Body Width: 80mm
Differs: 260,000
Finish: Black
Horizontal Clearance: 27mm
Material: Steel (Hardened)
Packaging: Visi
Shackle Diameter: 12mm
Vertical Clearance: 14mm
Weight: 1.03Kg
Great Padlock.
Does what it says on the tin. Much better than some of the cheaper container padlocks as this one doesnt seem to rust. We have a set of master keyed locks, so really easy to manage.